You known how it is, you've loads to do and not much time, but with a little luck and a bit of careful planning and you can fit it all in and than someone makes you BLOG OF NOTE!!!!!! WOW, Arghhhhhhhhhh!.
From around 25 readers to 3451 by the end of the day, and what a post to have on the blog, I nearly did not write it, it was very personal and maybe too private to share, but I known that there are others, like me, out there and thought that if it just helped one person it made the risk worth while, well its shared now.
Now this is pressure, writing knowing that lots of people will read this, do I make a grand statement, do I get stage fright and dry up, no I'll just babble on as I always do, it's worked so far.
First, Blog of note people, thank you, this really means a lot to me, I've read most of the blogs of notes since I started blogging and feel stunned to be in their company. Next, if you're reading this blog for the first time, welcome, make your self at home, there's beer in the fridge. Due to the champagne last night (and larger, wine, Guinness and ouzo) this won't be the best of posts so check out these for a insight to what I do, July 16, June 26, June 17, June 12, May 24 and April 30.
If you've got time after reading those, check out my highly recommended sites, all are places I go to for inspiration and a pick me up if I'm feeling down. A special mention to,
http://amasktohidebehind.blogspot.com/
http://anotherperspectiveathensdailyphoto.blogspot.com/
http://momentsfromsuburbia.blogspot.com/
http://dailyphotoisleofman.blogspot.com/
http://scarletsculturegarden.blogspot.com/
All of these have kept me going and are well worth a click..
Last but not least a heart felt thank you to my wife, you put up with (without too much moaning) all the time I spend on here and support me and encourage me, with out you I'd be a shadow of who I am.
Today's photo, just an old sign post, most people would rush past looking for the path, but if you stop and look around for a moment there's beauty everywhere.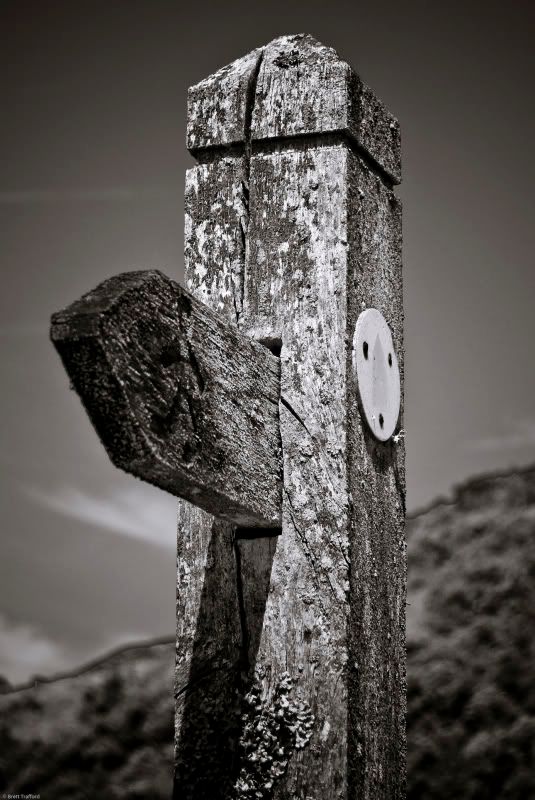 ----------------
Now playing:
Pet Shop Boys & Dusty Springfield - What Have I Done To Deserve This
via FoxyTunes